Frequently Asked Questions
Q: What is the difference between an Angle strike and a Flat strike and which one do I need?
A: A Flat Strike is most commonly used for steel or wood door frames. It screws directly to the face of the door frame and requires little or no modification to the frame. An angle strike is used predominately for wood door frames or specially prepared steel frames. It requires mortising out an area on the inside of the frame to allow the angled leg to extend between the door and the frame. This strike generally provides greater holding strength due to the multiple points of attachment.
Q: What does "Jimmying" a door mean?
A: "Jimmying" the door involves spreading the door frame so that the bolt or other locking device simply comes out of the strike box, allowing the door to swing open. Segal deadbolts have interlocking bolts and strikes, preventing this method of entry.
Q: I have some old "Segal Lock Company" stock certificates. Do they have any value?
A: The original Segal Lock Company ceased to exist in the mid 1950's, rendering the stock certificates valueless. Today, the Segal branded products are manufactured by Prime-Line Products, with exclusive rights to use the brand.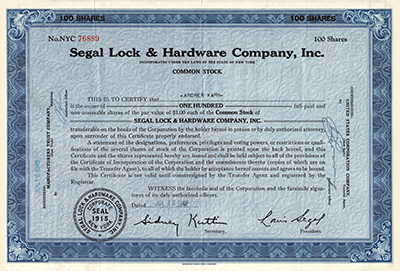 Our Commitment
Segal Lock Company is dedicated to making high quality security hardware.
With a wide range of surface mounted locks and replacement cylinders available,Segal Locks protect apartments, homes and businesses nationwide.
---